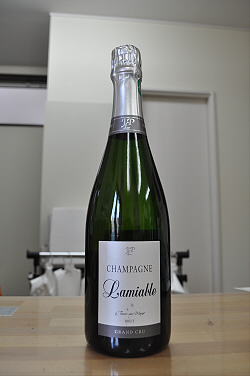 コード
19084
●ラミアブル ブリュット・グラン・クリュNV 750ml
在庫
 6本 ⇒ 完売御礼
NV J-P Lamiable Brut Grand Cru
A Champagne Blend Dry White Sparkling wine from
Tours Sur Marne, Champagne, France

Wine Advocate #186(Dec 2009)
Reviewer: Antonio Galloni
Rating: 92point
Drink: 2009 - 2014
Current (Release) Cost: $49-$50 (55) ←今回の価格は非常にお買い得ですよ!
The NV Brut Grand Cru is an impressive wine endowed with notable depth in its pure fruit. Sweet citrus, white peach, smoke and mineral nuances are woven together in an intricate fabric. Taut and focused throughout, the Brut Grand Cru delivers immense pleasure in a focused, energetic style, with the weight of the Pinot only truly being felt in the richness of the finish. The Brut Grand Cru is 60% Pinot Noir and 40% Chardonnay. The wine shows enough freshness to lead me to believe it will drink well for at least another few years, and quite likely longer. This is a great effort from Lamiable. Disgorged: May 16, 2008 (not indicated on the label). Anticipated maturity: 2009-2014.