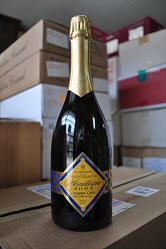 Review by Lisa Perrotti-Brown
In Asia #0709 (Jun 2009)
Rating: 93 points
Drink N/A
コード
17070
●ミレジム・グラン・クリュ・ブラン・ド・ブラン2002 ギィ・シャルルマーニュ 750ml
価格
\7,715 【税抜き価格】
在庫
 3本 ⇒ 完売御礼
2002 Guy Charlemagne Blanc de Blancs Mesnillesime Brut Mesnil Sur Oger Grand Cru
A Chardonnay Dry White Sparkling wine from
Mesnil Sur Oger, Champagne, France

This wine really needs some coaxing to bring the aromas forward, revealing only subtle sniffs of buttered croissant, fresh limes and grapefruit plus a hint of wet pebbles. The palate is very tightly knit but fine indeed, providing a great intensity of green apple and citrus fruit flavours complimented by fresh bread and lots of minerals. Crisp acidity and very fine bubbles. Long finish. Needs a further 6-18 months in bottle but should develop into something truly special. Tasted March 2009.